In 2006, a beauty contest for female bloggers became front page news in China. The contest was criticized as "sexist" and "immoral" because some contestants posted nude photographs on their blogs. The organizers were accused of turning a blind eye to immorality, as long as it generated web traffic.
In the first stage of BlogChina's Beautiful Blogger contest, held in Spring 2006, two million web users voted for female bloggers who hosted their blogs at the popular BlogChina site. The 20 highest scoring finalists were brought to Beijing for a more traditional beauty contest. BlogChina provided free hair styling, make up and beauty treatments. As well as physical appearance, the contestants were ranked according to the quality and popularity of their blogs, among other factors.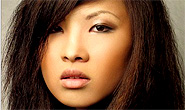 A clear leader emerged from the public voting, a young woman blogging under the name 'Hedgehog Mumu'. While all of the finalists traded on their physical attractiveness to some extent, Ms. Hedgehog went much further. Perhaps as a result of this she won the most votes from the public. In China, the name 'Hedgehog' implies a rebellious character - possibly influenced by the hedgehog's similarity to a spiky punk hairstyle.
Hedgehog Mumu posted several semi-nude photographs of herself on her blog. Although this helped make her a favorite to win the contest, media pundits immediately attacked her for "offending the dignity of women".
Host, BlogChina, was slated for cooking up "stir fried news"; in other words, hyping an insignificant story into a big news event with little real content.
Commented a local blogger: "I like beautiful women and I like BlogChina. But to combine the two together, I don't see the logic of it. How meaningful is it to use beautiful women as a kind of bait? Basically it's just stir fried news."
"This is the essential character of China, nobody really cares about the result; they only care about the process," lamented the male blogger, who uses the online name 'Idai'.
There were even claims that the woman in some of the more risque photos, where the blogger's face was not clearly visible, was actually a well-proportioned model specially hired for the purpose. 'Hedgehog Mumu' denied this. BlogChina refused to censor the photographs because they "did not break state laws".
To her surprise, despite being the most popular blogger, Hedgehog Mumu was not even invited to the finals.
The judges instead awarded the $2,500 first prize to the runner-up in the public vote, a demure business student from Beijing. Prizes of $1,250 were also awarded in four categories including 'most talented blogger' and 'sexiest blogger'. The unfortunate Ms. Hedgehog would have seemed a likely contender for the last of these, at least, but again won nothing.
Shortly after the contest finished, Ms. Hedgehog's blog was erased by BlogChina. Despite this, accusations of sexism and sensationalism from the media took weeks to die down.
BlogChina, which is better known inside China as Bokee.com, is no stranger to controversy. The company was accused early in 2006 of using underhand means of improving its ranking in website traffic statistics measured by Alexa.com. Alexa's data is often used by advertisers and investors in China to measure the popularity of websites. Bokee.com ranking plunged dramatically after Alexa apparently erased unreliable visitor data.
BlogChina executives hoped to list on the US Nasdaq market during 2006, but as of early 2007, they have yet to achieve this goal.