In a significant setback for the world's first rocket racing league, a founding team has abandoned the competition. The withdrawal of Leading Edge Rocket Racing leaves the league with only two teams.
The Rocket Racing League plans to run high speed, low level flying races between manned rockets. Backers hope that the League can eventually rival Nascar or Formula 1 racing as a sport, while simultaneously boosting spaceflight and aerospace research.
Demonstration events are planned for the end of 2007, the League announced earlier this year.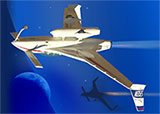 Leading Edge, one of the first teams to join the league, was established by experienced US airforce fighter pilots, Dan Grantham and Robert Rickard. Their statements suggest a lack of communication from the League was a factor in their decision to drop out.
"After working with Rocket Racing League for the past 17 months, we have concluded that our vision, business practices, and communication standards are incompatible with those of the league," said Rickard in a statement released to media. "We had very high hopes for this enterprise and tried very hard to find a common way forward."
"There hasn't been a working relationship between our company and the RRL for some time now. This announcement makes it official so we can move on," said Grantham.
Leading Edge will continue to develop rocket powered aircraft, Grantham added.
"It's time to focus our resources on something more compatible with Leading Edge's goal of being the premier operators of high performance rocket powered aircraft"
Two teams, Bridenstine and Santa Fe Racing, remain in the league, according to the RRL. Bridenstine has released the demonstration video seen here.
The Rocket Racing League was co-founded by Peter Diamandis, founder of the X Prize, a series of competitions designed to promote spaceflight by offering large cash prizes for achievements. The initial X-Prize competition, a $10 million award for the first privately-funded manned vehicle to reach space was won by Burt Rutan's Scaled Composites, and its SpaceShipOne craft.